Top Five Books I Read in 2019
Newsletter
In this newsletter, I highlight my top five books I read this year. While my selections are not in the education genre, to encourage the importance of reading widely, they all have some impact on my thinking about teaching and leading in schools.
How to Change Your Mind: What the New Science of Psychedelics Teaches Us About Consciousness, Dying, Addiction, Depression, and Transcendence by Michael Pollan
This is an important book and maybe Pollan's best yet. Through his both personal and historical investigation into psychedelics, the author removes much of the stigma from this hot button issue by revealing the potential it has for mental health.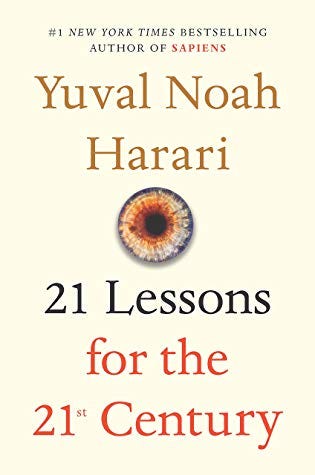 21 Lessons for the 21st Century by Yuval Noah Harari
Thought-provoking and original about where we are at as a species and what the future might hold. As a reader I would not take every one of the author's conclusions as gospel, but definitely as possible. The chapter on education is one of my favorites.
Keep Going: 10 Ways to Stay Creative in Good Times and Bad by Austin Kleon
Another winner from Kleon. This contribution, compared to Steal Like an Artist and Show Your Work!, seems more focused on wisdom for life as well as for art. Applicable to anyone looking for inspiration in their creative endeavors.
No Country for Old Men by Cormac McCarthy
One of the few books that, as good as it is, is equally matched by the film version (one of my favorites). I don't share the same sense of tragedy about our country as Sheriff Bell, but McCarthy doesn't expect you to share it either. He's telling a story.
A favorite Sheriff Bell quote:
"It takes very little to govern good people. Very little. And bad people cant be governed at all. Or if they could I never heard of it."
Fearless Writing: How to Create Boldly and Write with Confidence by William Kenower
One of the best books on writing I have on my shelf. Kenower resists the tired "writing-as-sacrifice" dogma. Instead he encourages writers to follow their passion and curiosity. An inspiring and rejuvenating reference.
Reflection: What does it all mean?
As I looked back on my list of almost fifty books read this year (still didn't reach my goal - next year!), I tried not to bring a critical lens. For example, should I question whether I read more nonfiction than fiction again? Or that my top five books come from male authors, 80% of whom are white? Maybe, but not too much.
For example, I could have selected The Underground Railroad by Colson Whitehead. It was well written and an important book, yet it also takes an emotional toll on the reader as it probably should. To say that I thoroughly enjoyed it or that I would keep it on my book shelf for all time is not accurate. I'm glad I read it and would recommend it, which is why I donated it to our staff lending library.
The point I might be trying to make here is, maybe the choices we make in our reading life are not as important as the fact that we have a reading life. Keep reading! Don't feel guilty that your diet of literature is not diverse enough. Certainly, we should examine the books we choose from time to time and make adjustments in order to broaden our perspectives and interests. Yet I fear too much analysis can lead to reading paralysis. Nurturing our love for books should be our priority.
What were your favorite books you read this year? Why did you select these titles? Please share in the comments.